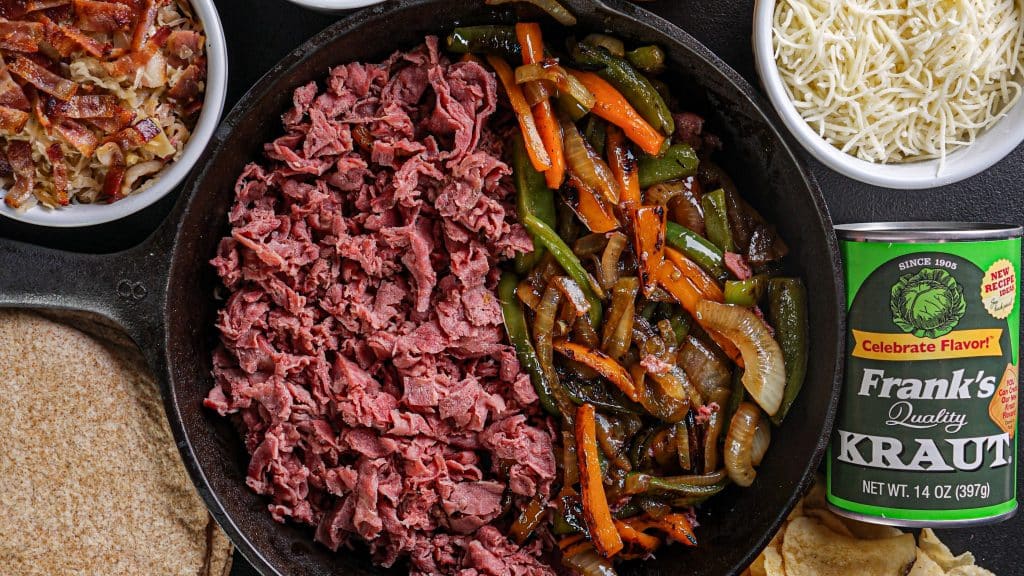 Reuben Fajitas Recipe
@BBQwithBoterman from Instagram created these Reuben inspired fajitas with Frank's Kraut!
Ingredients
24 oz of Corned Beef (thinly sliced)
14 oz of Frank's Kraut
4-6 Bacon Strips (Diced)
2 Bell Peppers (Julienned, any color is fine)
1 Sweet Onion
2 Cups Shredded Swiss Cheese
1 Cup Thousand Island Dressing
1 Package of Rye Tortillas (wheat or regular flour tortillas will work)
1 Tablespoon Vegetable Oil
Salt to Taste
Serve with Potato Chips
Instructions
Over medium high heat, add vegetable oil, onions and peppers to large cast iron skillet. Salt to taste and cook until browned and soft. Remove from pan.

Add Diced Bacon to pan and cook until crispy. Add one can of Frank's Kraut into the pan and combine with bacon and rendered bacon fat. Cook for 2-4 Minutes. Remove from Pan.

Add thinly sliced corned beef to pan and cook until hot. Add onions and peppers back in the pan and serve sizzling hot.

Build fajitas using rye tortilla, thousand island, corned beef, onions and peppers, Frank's kraut with bacon and sprinkle shredded Swiss cheese on top.

Serve with potato chips and enjoy!