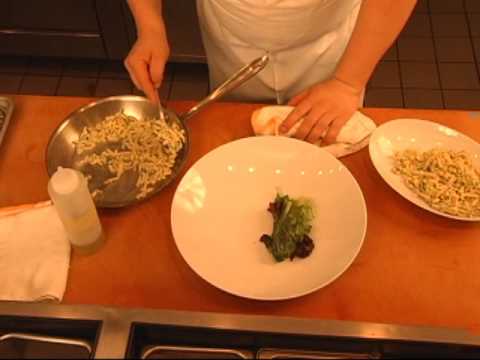 Ingredients
6 oz Frank's Kraut, rinsed and drained
2 1/2 cup flour
2 Eggs
Cheese cloth
3 ribs washed celery
1 Onion Large, peeled & sliced
3 lbs Swiss Cheese, cubed
4 oz parsley picked and washed
2 lbs pork belly braised and pressed
greens fresh market
Instructions
Prepare cheese consommé first: Place onion, parsley and cubed cheese into cheesecloth. Bundle and simmer in water for 3-1/2 hrs.

Prepare Spaetzle: Combine 2 eggs, flour and sauerkraut in blender. Puree and push mixture through a perforated pan into boiling water. Spoon off cooked Speatzle as it rises.

Sear pork belly on all sides in olive oil. Remove from stove and heat in oven at 350 for 7 minutes. Remove and slice into thirds.

Wilt market greens in olive oil on low heat in pan.
Additional Notes
PLATE: Place Wilted Greens down first, cover with Speatzle, add Pork and ladle Cheese Consommé over dish. Serve immediately.