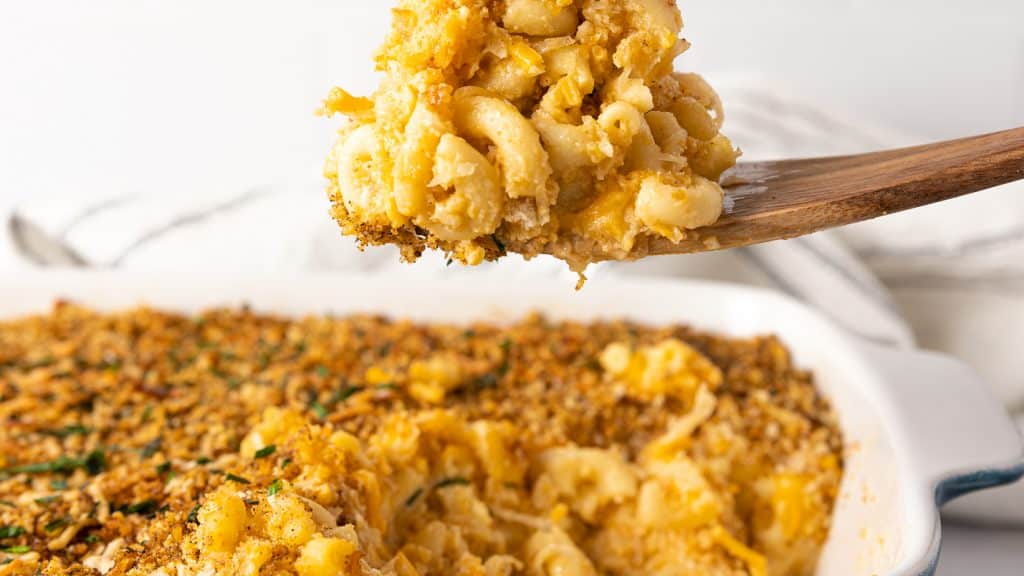 Frank's Kraut Mac & Beer Cheese Casserole
Ingredients
16 oz elbow macaroni, cooked
1 tbsp extra virgin olive oil
6 tbsp unsalted butter
1/3 cup all-purpose flour
3 cups whole milk
1 cup heavy whipping cream
4 cups cheddar cheese
2 cups beer
2 14 oz cans of Frank's Kraut (drained)
Salt and Pepper to taste
Bread crumb topping
1 cup panko breadcrumbs
½ cup crushed pretzels
4 tbsp butter melted
½ cup parmesan cheese
¼ tsp paprika
Instructions
Preheat oven to 350F

Cook pasta, remove from heat, and drain. Place in large bowl.

Drizzle olive oil on pasta and stir. Set aside to cool.

Melt 6 tbsp unsalted butter in saucepan. Over medium heat whisk in flour, cook until bubbly and golden.

Gradually whisk in milk and whipping cream until smooth. Gradually add beer, whisk until smooth. Cook until bubbly, add salt and pepper.

Gradually add 4 cups of cheese, whisk until smooth. Sauce should be nice and thick.

Add cheese mixture to cooled pasta and stir (you may have some cheese sauce leftover, set aside for a great dip!) Fold in Frank's Kraut.

In a lightly greased 3-4 qt. baking dish pour mac and cheese.

Top with bread crumb mixture, bake until bubbly and brown.

Topping

In small bowl combine panko crumbs, pretzel crumbs, parmesan cheese, 4 tbsp melted butter and paprika.