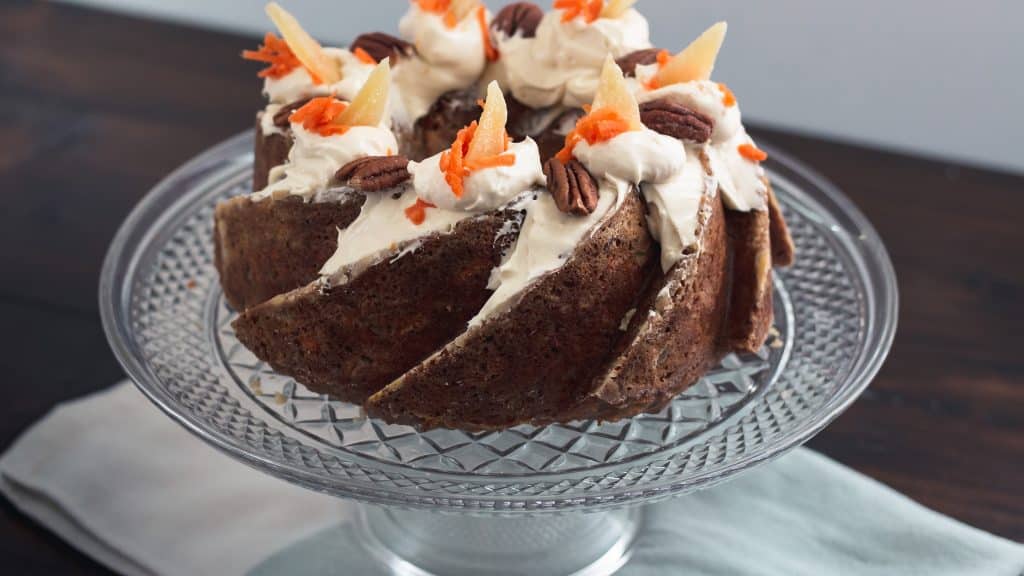 Frank's Kraut Carrot Cake
Ingredients
For Cake:
2 ½ cups All-purpose flour
2 cups grated carrots, plus 2 tablespoons for decorating
1 ½ cups Frank's Kraut, drained
1 cup chopped pecans, plus more for decorating
1 cup brown sugar
1/3 cup granulated sugar
3 eggs
2 tablespoons orange zest
2 tablespoons fresh grated ginger
1 tablespoon vanilla extract
2 teaspoons ground cinnamon
1 teaspoon ground nutmeg
1 teaspoon salt
2 teaspoons baking powder
1 teaspoon baking soda
Crystallized ginger for decorating
For Frosting:
8 oz cream cheese
2 tablespoons butter
1 tablespoon vanilla extract
1 teaspoon salt
½ cup confectioner's sugar
¼ cup fresh-squeezed orange juice
2 tablespoons orange zest
Instructions
For Cake:
In a medium bowl, combine carrots, kraut, pecans and ½ cup flour. Coat well and set aside.

Sift together remaining flour, spices, baking powder and soda.

In a separate bowl, whisk together brown and granulated sugars, eggs, zest, ginger, vanilla and salt.

Add dry ingredients to wet and mix well.

Fold in carrot and kraut mixture.

Place batter in a well-greased and floured Bundt pan. At this stage, batter may seem thicker than other cake batters you've worked with, but that's okay. It's supposed to.

Bake in a preheated oven at 350 degrees Fahrenheit for 45-50 minutes.

Let cool for at least 1 hour before icing.
For Frosting:
While cake is baking, whisk together all frosting ingredients until well combined.

Once cool, turn out cake and top with frosting, remaining carrots, pecans and candied ginger.

Serve and enjoy.

Store any leftover cake in refrigerator.