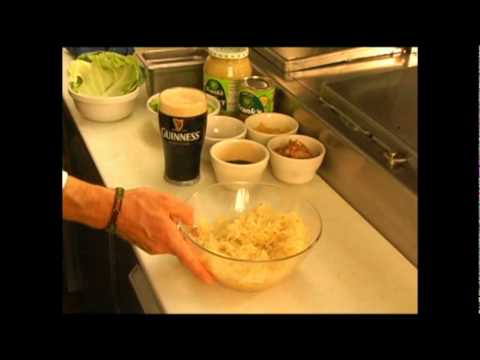 Frank's Duck Confit Cabbage Roll with Guinness au Jus
Ingredients
¼ cup Frank's Sweet Bavarian Kraut
1 Pint Beer Guinness Stout
½ cup Demi-glace Prepared
1 cup Duck confit Shredded
½ cup Rice Cooked rice pilaf
¼ cup Cherries Dried
4-5 leaves Green cabbage
½ cup Leeks Crispy
Instructions
Guinness Jus
Place demi-glace and all but ¼ cup of Guinness in a small pot. Bring to a simmer over medium heat until thick.
Cabbage roll
Reconstitute dried cherries by placing them in a sautee pan with ¼ cup of Guinness.

Blanche cabbage leave in salted, boiling water for 2-3 minutes. Remove and place directly into ice water to shock.

Heat over medium -low heat until Guinness is absorbed.

Cover work surface with plastic wrap. Top with shocked cabbage leaves, fanning out and overlapping in a circle.

Mix cherries, rice pilaf, duck confit and sauerkraut, in medium mixing bowl.

Place mixture in center of cabbage roll and roll like a burrito. Wrap in plastic to form a tight cabbage roll.

Place in a sautee pan. Heat through in a 350 degree oven, about 12 minutes.

Cut in half, pace in a bowl and top with a spoonful of jus.