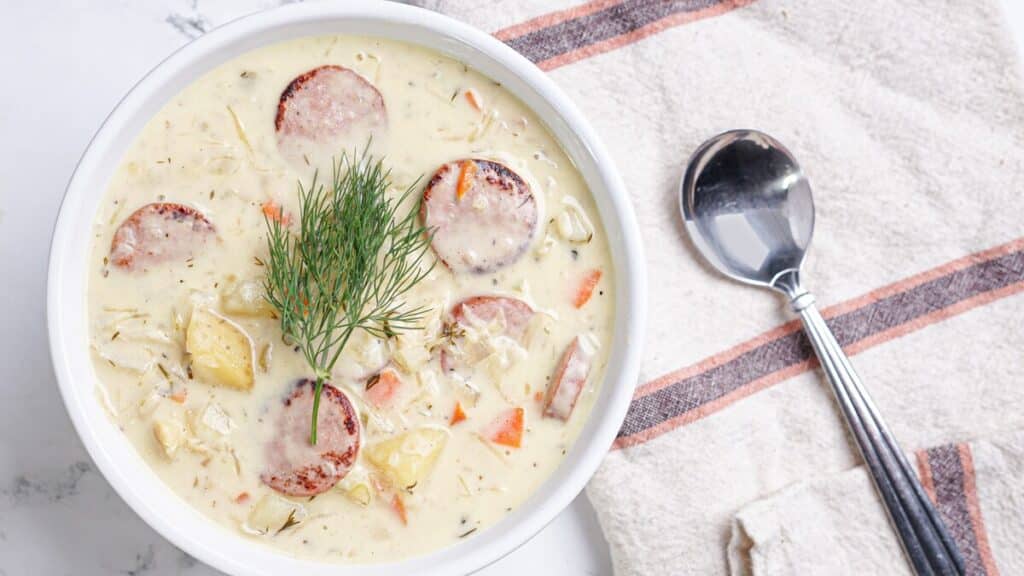 Creamy Kraut and Sausage Soup
A delicious way to warm up all winter long.
Ingredients
1 14oz can of Franks Kraut
1 sweet onion finely diced
1 large carrot finely diced
2 stalks of celery finely diced
3 garlic cloves minced
4 tablespoons of unsalted butter
4 tablespoons AP flour
2 cups heavy whipping cream
1 qt chicken stock
1.5 lbs diced potatoes
14oz. Polish sausage thin sliced
2 tablespoons fresh dill diced
Salt to taste
Black pepper to taste
Instructions
Slice potatoes into small bite size pieces and boil them until tender (5-7 minutes). Set aside.

In a large Dutch oven on medium high heat brown the polish sausage, 3-5 minutes. Once they are browned remove sausage and add in onions, carrots and celery (mirepoix), garlic and 4 tablespoons of butter.

Cook on medium heat for 3-5 minutes or until onions are translucent and carrots have softened.

Add 4 tablespoons of flour and stir into veggies. Let cook for another 3 minutes stirring occasionally.

Slowly pour in chicken stock, stir and bring to a simmer . Mixture will begin to thicken. Slowly add in heavy whipping cream while stirring. Add sausage, drained Frank's kraut, potatoes, dill, salt and pepper and stir to combine.

Simmer on medium low heat for 20-30 minutes. Enjoy!