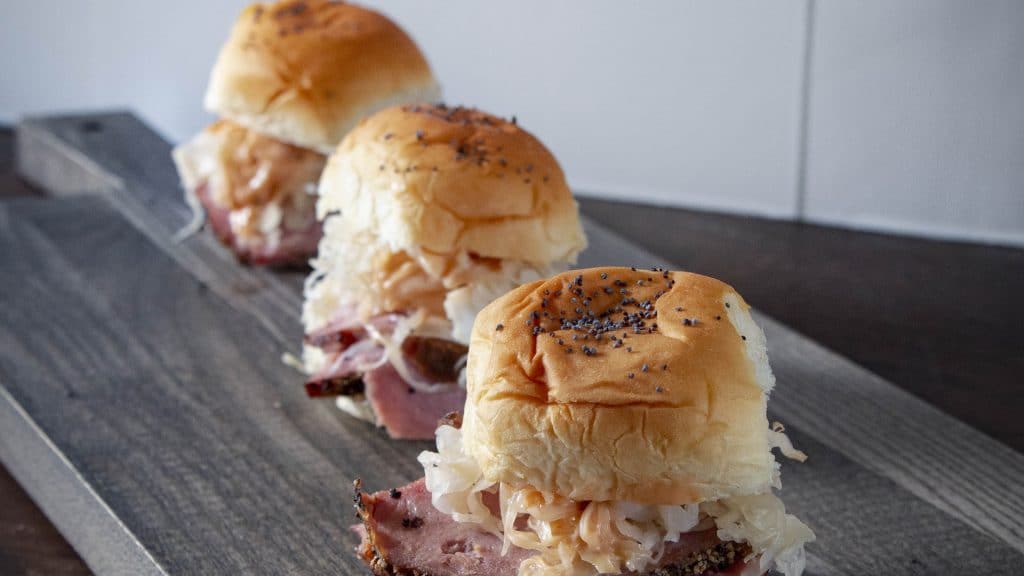 Reuben Sliders Recipe & Ingredients
Ingredients
1 12oz pkg Hawaiian sweet rolls (12 individual rolls)
1 14oz can Frank's Kraut
8 slices Swiss cheese
¼ pound thinly sliced corned beef
For topping:
2 tablespoons melted butter
2 tablespoons Dijon mustard
2 tablespoon brown sugar
1 tablespoon Worcestershire sauce
3 tablespoons poppy seeds (optional)
Instructions
To prepare topping:
Combine butter, mustard, brown sugar and Worcestershire sauce. Set aside.
To prepare sliders:
Slice rolls in half horizontally to create top and bottom buns. Place bottom buns on a baking sheet and top with corned beef, sauerkraut and Swiss cheese.

Replace top buns and spoon topping over sliders. Sprinkle with poppy seeds.

Bake at 400 degrees for 20 minutes.

Serve and Enjoy!