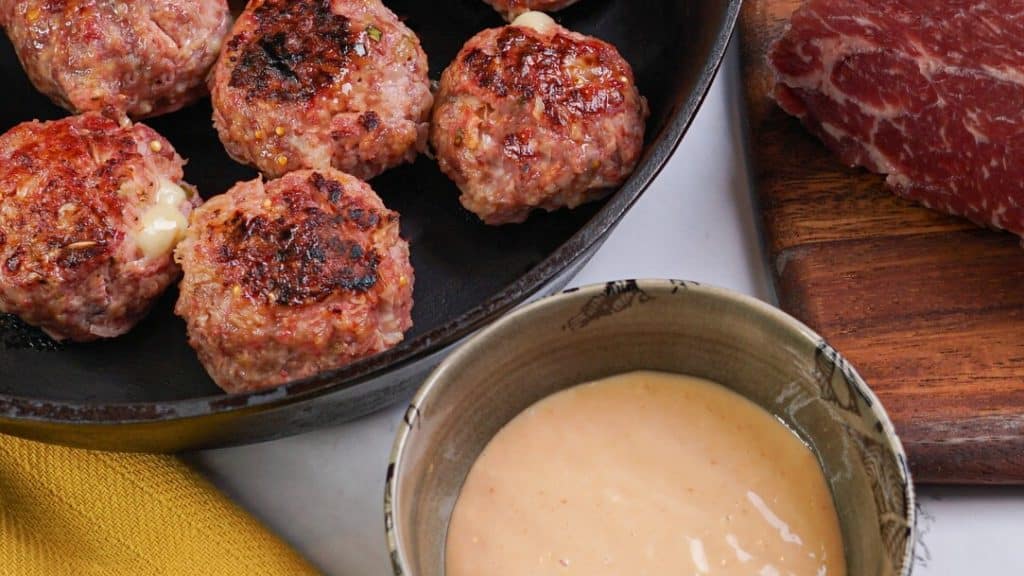 Reuben Meatballs
Homemade meatballs that have been Reubenized. Recipe and photography by @BBQwithBoterman
Ingredients
1lb corned beef (point)
2 strips of bacon
1 egg
1/2 cup Panko bread crumbs
1/2 cup Frank's Kraut
4 oz of Swiss cheese
1/2 of seasoning packet included with the corned beef
Thousand Island dressing (for dipping)
Instructions
Pre-heat oven to 375º

Use a pre-packaged corned beef brisket point for these. Cut 1 lb off the roast and mince with your knife.

Mince 2 strips of bacon.

Take the minced meat and place into a food processor and pulse until the brisket resembles hamburger meat.

In a large bowl mix ground corned beef with egg, bread crumbs, Frank's Kraut and half of the seasoning packet that is included in the brisket package.

Cut the Swiss cheese into small cubes.

Each meatball should be 2oz. Place a cube of Swiss cheese in the middle of the meat and form a ball around it.

Preheat a cast iron skillet to medium high heat. Place meatballs in hot cast iron to sear 3-4 minutes per side.

Immediately move the pan into the oven to finish cooking. Bake for 15-20 minutes or until internal temp is at least 160º

Dip meatballs in thousand island dressing. Enjoy!