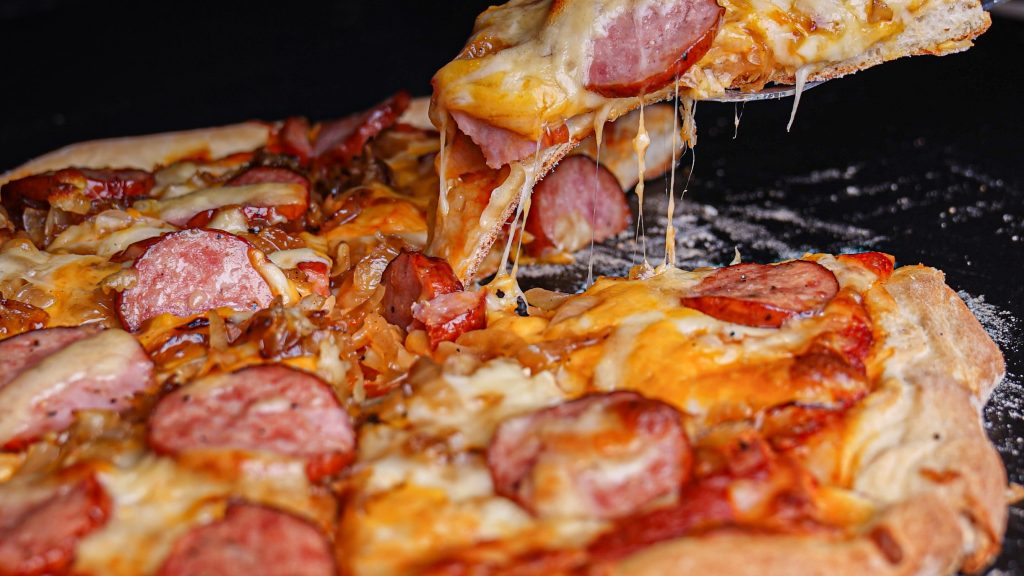 Boterman's Grilled Sausage and Kraut Pizza
@BBQwithBoterman from Instagram created this grilled pizza recipe with Frank's Kraut.
Ingredients
14" pizza crust dough (can use pre-made mixes or make your own from scratch)
4 oz. Pizza Sauce
1/2 lb Thin Sliced Polish Sausage (Kielbasa)
1 cup Frank's Kraut (drained)
1/2 a large Sweet Onion (diced)
1/2 Cup Shredded Mozzarella
1/2 Cup Shredded Provolone
1/4 Cup Shredded Mild Cheddar Cheese
2 Tablespoons of Unsalted Butter
Salt to taste
Instructions
Prepare pizza dough and let rise 2-4 hours in advance.

Preheat a cast iron pan to medium high heat.

Add diced sweet onions.

When the onions are translucent, add the butter and a pinch of salt.

Cook onions until they are browned and sweet (about 5-10 minutes)

Pre-heat your grill to 500°. For best results, use a pizza stone.

Place the stone in the grill during the preheating period.

Form your pizza dough into a 14" circle on a floured surface.

Spread your pizza sauce evenly across the dough.

Distribute Frank's Kraut and fried onions evenly.

Add Mozzarella and provolone.

Add Sausage and finally cheddar.

Using a pizza peel, place the assembled pizza on the grill.

Cook for 7-15 minutes until crust is golden brown and bubbly.

Slice, enjoy, Grill Out with Frank's Kraut!