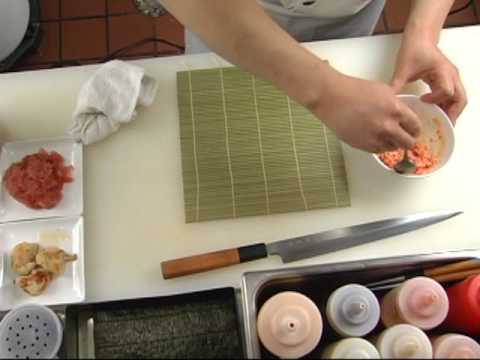 Spicy Tuna Sauerkraut Sushi roll from Blu Coral Chi
Ingredients
1 sushi mat
1 piece sushi nori (seaweed) wrapper.
1 cup sushi rice cooked, (prepare in advance; add rice vinegar to the cooled, cooked rice before using).
1 scoop mayonnaise Spicy, (1/2 cup mayo, 2 tbsp hot chili, 1 tbsp hot sesame oil.)
1 cup Frank's Kraut Frank's sauerkraut rinsed, drained and chopped.
Sashimi grade tuna chopped.
1 tbs fish eggs
1 tbs Oil Chili
Instructions
The trick to sushi is wrapping your sushi mat with plastic wrap before starting.

Combine the tuna, sauerkraut, spicy mayonnaise, fish eggs and chili oil in a bowl. Place the nori on the mat.

Distribute a layer of rice across the nori.

Place a large scoop of the tuna mixture on the rice and distribute evenly.

Roll.

Cut into five pieces. Plate.