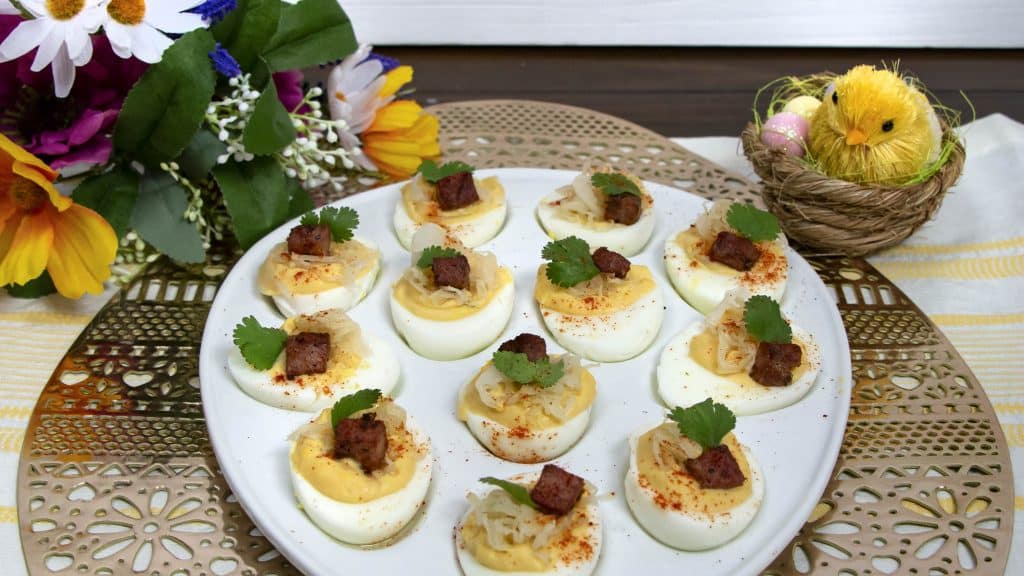 Reuben Deviled Eggs Recipe
Ingredients
1 dozen eggs
½ cup thousand island dressing
1/3 cup Frank's kraut (plus more for garnish) , drained and ¼ cup juice reserved
¼ cup corned beef, diced small and fried until crispy
Salt and pepper, to taste
Parsley, for garnish
Instructions
Place eggs in medium sauce pot and cover with cold water. Bring to a boil over high heat.

Once boiling, turn off heat and let eggs sit for 12 minutes*.

Transfer eggs to cold water and allow to cool for about 8 minutes, or until they are cool to the touch. Peel and cut in half.

Carefully remove the yolks and combine with dressing, kraut and kraut juice.

Pipe or spoon yolk mixture back into halved whites and top with crispy corned beef and parsley.

Enjoy!

*this technique will give you perfect hard-boiled eggs, with no green yolk, every time!