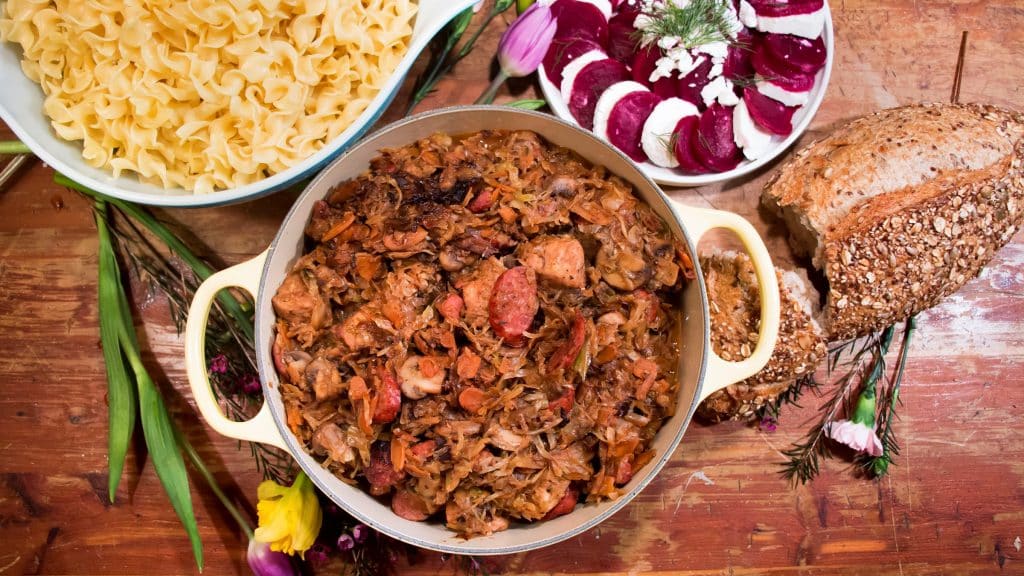 Ingredients
3 slices thick cut Bacon diced
12 oz Kielbasa sliced
8 oz Pork shoulder sliced
2 cup Onions yellow, sliced
1 cup carrots sliced
½ cabbage a head white, sliced
1 cup mushroosm such as cremini or white button, sliced
1 oz mushrooms dried, such as porcini, chopped
1/3 cup Water hot
6-7 plums dried, diced
1 tbs Tomato paste
½ cup wine Madeira
14 oz Frank's Kraut drained
2 tbs thyme dried
2 tbs oregano or marjoram dried
1 tbs paprika dried
1 tbs caraway seeds crushed
½ tbs allspice
¼ - ½ cup Beef or Vegetable stock as needed
salt to taste
papper to taste
Instructions
Stovetop
In a large pot, brown bacon, kielbasa and pork shoulder over medium heat. Once brown, remove and set aside.

Add onions, carrots, cabbage and fresh mushrooms to pot and sauté until golden.

While vegetables are cooking, soak dried mushrooms in 1/3 cup hot water until plump, about 5 minutes. Add dried mushrooms, soaking water and dried plums to pot.

Stir in tomato paste, wine, Frank's Kraut, and spices. Cover and simmer over medium heat for about an hour, or until meat is tender. Stir occasionally and add stock if pan begins to dry out.

When meat is tender, season with salt and pepper and serve as a traditional Polish dinner, to be shared with friends and family alike!
Slow-cooker
In a large pan, brown bacon, kielbasa and pork shoulder over medium heat. Once brown, remove and set aside.

While meat is browning, soak dried mushrooms in 1/3 cup hot water until plump, about 5 minutes.

Layer vegetables, meat and all remaining ingredients to slow-cooker and cook on high for 2-3 hours, stirring occasionally.

Lower heat to low for remaining 2-3 hours, or until meat is tender.

When meat is tender, season with salt and pepper and serve as a traditional Polish dinner, to be shared with friends and family alike!

SHARE THIS RECIPE