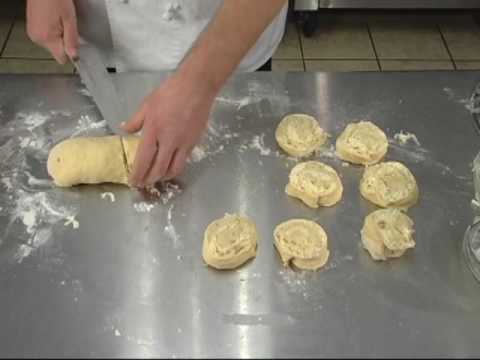 Pennsylvania Dutch Krautkrapfen
Ingredients
For the dough
4 cups wheat flour
3 Eggs Large
1/2 cups Milk
1 tbs Oil vegetable
1/8 tbs nutmeg fresh, ground
1 tbs salt
For the stuffing
2 pound Frank's Kraut
8 oz Pennsylvania Dutch grated Colby cheese
2 cups Onions diced, yellow
½ cup Oil vegetable
½ cup butter
Instructions
Dough
Mix all ingredients on a clean cutting board to form a dry pasta dough

Knead the dough until smooth

Cover the dough with a clean towel and let rest for 30 minutes at room temperature
Noodles
Heat the butter in a deep sauté pan and caramelize the onions over low heat, this will take about 15 minutes, keep stirring the onions.

While the onions caramelize roll out the noodle dough to an 18 by 12 sheet.

First spread the cheese over the sheet and then the cold sauerkraut over the cheese.

Roll up the noodle sheet and pinch the overlapping ends together.

Cut the Kraut Krapfen into 2 inch slices.

Now remove the onions from the pan and heat the vegetable oil over medium heat and place the Kraut Krapfen into the skillet and fry for 2 minutes on each side. After you turned them over place a lid on the pan, turn the heat to low and let sit for 5 minutes. Then move the Kraut Krapfen onto a nice platter and top them with the caramelized onions.

Garnish with fresh chopped scallions and serve with apple sauce or serve them cold with a bowl of your favorite soup.
Additional Notes
PLATE: Place Wilted Greens down first, cover with Speatzle, add Pork and ladle Cheese Consommé over dish. Serve immediately.