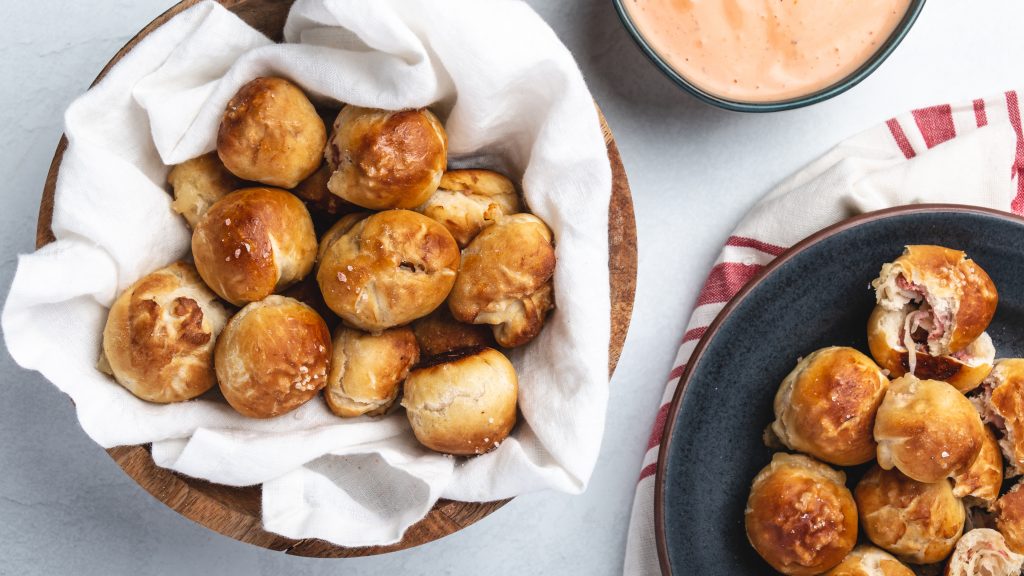 Frank's Kraut Reuben Pretzel Bites Recipe
Ingredients
¼-pound corned beef, thinly shaved
½-cup Swiss cheese
½-cup Frank's Kraut, drained and chopped
1-pound pizza dough, at room temperature
½-cup baking soda
4 cups water
Coarse salt, for topping
Melted butter, for finishing
Thousand island dressing, for serving
Instructions
Preheat oven to 400 degrees.

In a small pot, heat water and baking soda over low heat.

In a bowl, mix together corned beef, cheese and kraut.

Divide dough into 4 pieces. Roll each piece into a 2-foot rope and cut it into 2-inch sections.

Flatten dough pieces and fill each with a teaspoon of kraut mixture. Pinch closed to ensure a tight seal.

Place filled dough balls in to baking soda water for 10 seconds before transferring to a baking sheet. Top with coarse salt and bake for 20 minutes.

Brush pretzel bites with melted butter and serve with thousand island dressing.