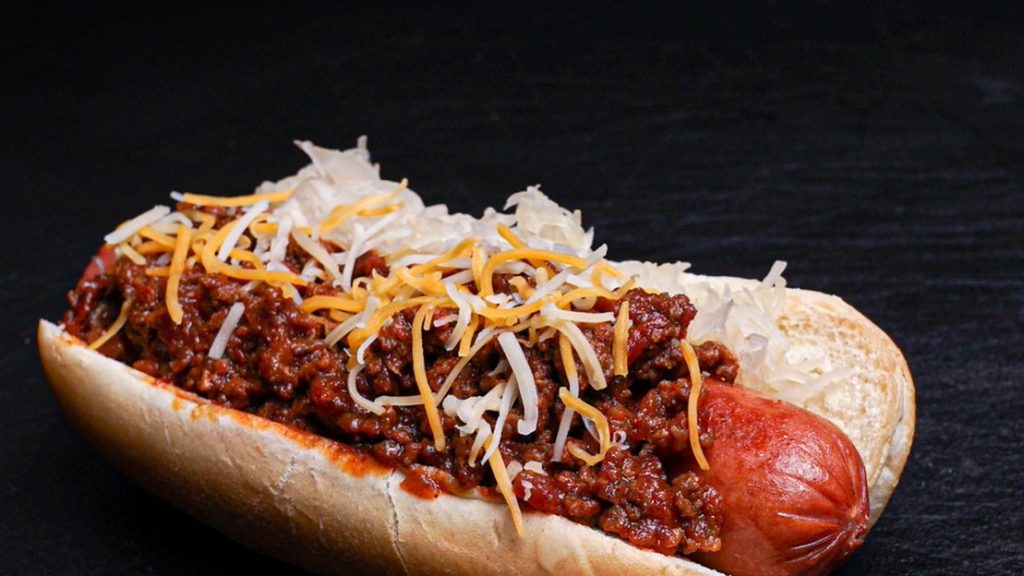 Frank's Kraut Chili Dog
@BBQwithBoterman from Instagram created this chili dog recipe with Frank's Kraut.
Ingredients
For Chili
1.5 lbs. ground beef
2 10 oz. cans of Rotel
2 cloves of garlic (minced)
1 Large sweet onion
2 Tablespoons Butter
3 Tablespoons of Ancho Chili Powder
1 Tablespoon Paprika
1/2 Tablespoon Cumin
2 Tablespoons Brown Sugar (less if less sweetness is desired)
1 6 oz. can of tomato paste
2 Cups of Beef Broth
Salt to taste.
For Hot Dogs
1 Package of Nathan's Colossal Beef Hot Dogs
8 White Hot dog buns
2 cups of shredded cheese
1 can of Frank's Kraut
Instructions
Preheat Smoker to 225º

Finely dice the sweet onion. Place 2 tablespoons of butter into cast iron Dutch oven over medium high heat. When onions are translucent, add diced garlic. After garlic has been in for 1 minute, add in the ground beef and salt. Brown the beef and drain. Return to Dutch oven and add in the remaining chili ingredients. Bring ingredients to a boil stirring regularly.

Once chili is well blended, place Dutch oven in the smoker with the lid off. Smoke for at least 2 hrs. up to 4 hrs. Stir chili every 45 minutes.

Grill hot dogs to desired doneness.

Assemble chili dogs, top with shredded cheese and Frank's Kraut!