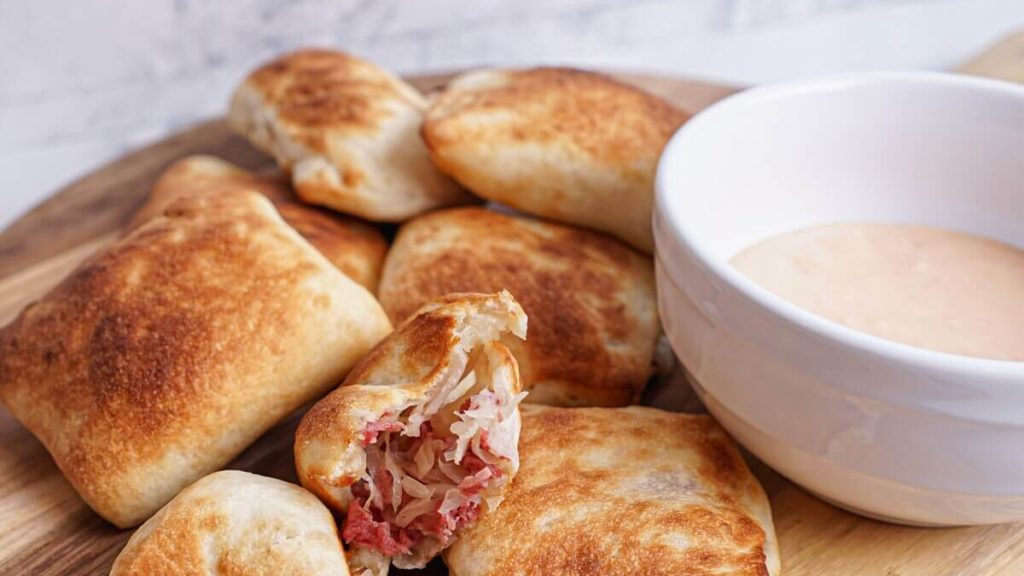 Air Fryer Reuben Pizza Rolls
The perfect snack any day of the week. Recipe and photography by @BBQwithBoterman
Ingredients
12 oz. Cooked Corned Beef
14 oz. Can of Frank's Kraut Drained
8 oz. Shredded Swiss Cheese
3 Cans Pizza Crust (e.g. Pillsbury)
Thousand Island Dressing (for dipping)
Cooking spray
Instructions
Pre-heat air fryer to 400º F.

Mix Corned Beef, Kraut and Swiss cheese in a large bowl.

Using a rolling pin, roll pizza crust thin (about 1/8").

Evenly place small spoonful of meat mixture across half of your pizza dough.

Fold the other half of dough over the meat like ravioli, creating your pizza rolls.

Using a pizza cutter, cut around each pizza roll and make sure it is sealed well.

Spray the basket with cooking spray and carefully place pizza rolls in a single layer, spray the tops of them with cooking spray and cook for 4-6 minutes or until golden brown.

Serve with Thousand Island for dipping. Enjoy!