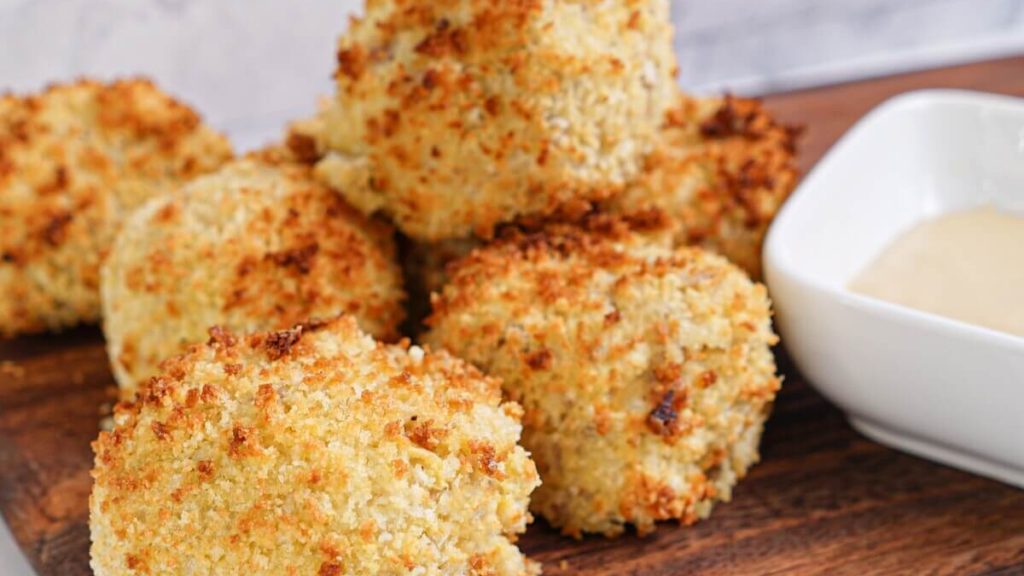 Air Fryer Kraut Balls
A kraut lovers favorite appetizer but in the Air Fryer. Recipe and photo credit to @BBQwithBoterman
Ingredients
1lb Bratwurst (casing removed)
14 oz Can of Frank's Kraut
1 Medium Sweet Onion
3 Cloves Garlic (minced)
8 oz Cream Cheese
2 Tablespoons Dijon Mustard
1 Cup AP Flour
2 Eggs
1/4 Cup Milk
2 Cups Panko Break Crumbs
Non-Stick Spray (I like canola or vegetable oil)
Salt to taste
Black Pepper to taste
Instructions
Start by removing the casing from your brats and brown up the meat in a medium high heat skillet. Using your spatula, chop the bratwurst into fine pieces (think taco meat).

Drain your kraut and squeeze it in a cheese cloth or paper towel until it's fairly dry.

Add kraut to a food processor and pulse several times until the kraut is in fine pieces. If you don't have a food processor, finely dice the kraut with a knife.

Finely dice your onion.

Add kraut, onion, garlic, salt and pepper to your skillet with bratwurst and cook 3-5 minutes.

Remove mixture from skillet into a large mixing bowl.

Add in cream cheese and dijon mustard and mix well until cream cheese is evenly melted and distributed.

Place mixture in the fridge to cool for at least an hour (these steps can be done the night before if you want a quicker meal prep the next day).

Once the mixture is fully cooled and holds together when formed into a ball, create 2 oz balls and set aside (this recipe yields about 16 kraut balls).

Arrange 3 bowls near your air fryer. Put flour in the first bowl, whisked eggs and milk in the second bowl and Panko Bread crumbs in the third.

Preheat your air fryer to 390º and spray basket with non stick spray. Take 2oz kraut balls and roll in flour, then the egg mixture and finally the Panko bread crumbs (this can get messy so try to do the coating with one hand).

Working in batches, carefully arrange kraut balls in a single layer in the air fryer basket. Spray additional oil on top of the kraut balls and cook for 5-8 minutes until golden brown. Serve with your favorite mustard and enjoy!!